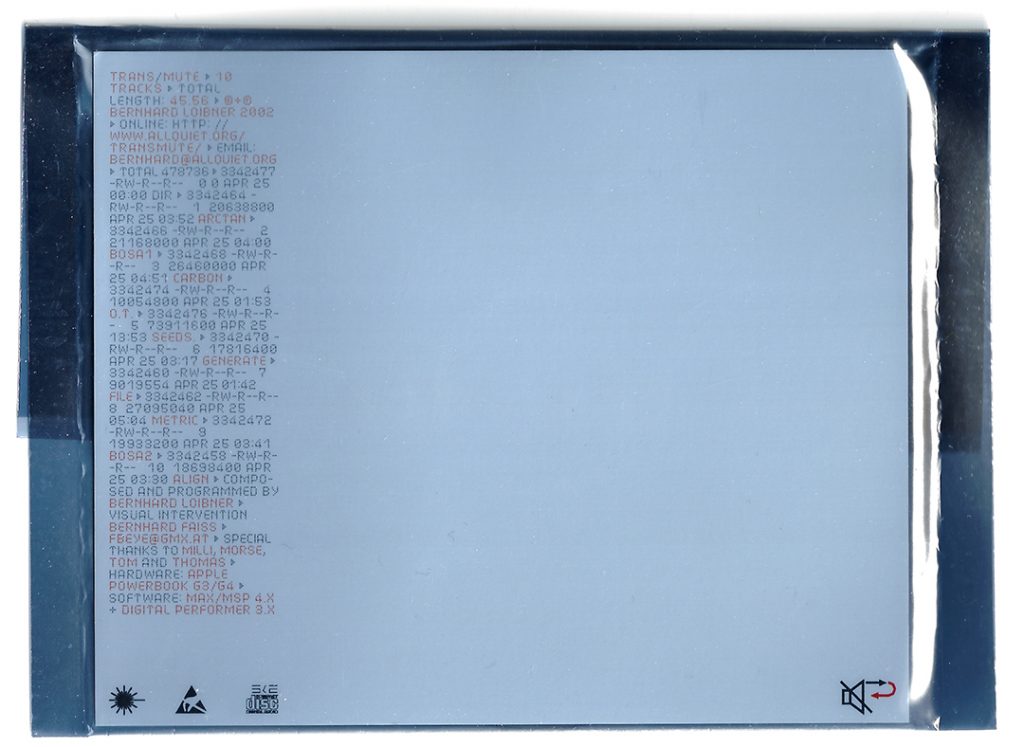 Trans/Mute is a collection of electronic sound pieces by Bernhard Loibner released by the austrian music label allquiet in 2002. All pieces are dealing with abstract textures and shifting layers of sound. All sounds have been created with the graphic audio programming environment Max/Msp. A number of experimental techniques like granular synthesis or extreme pitch shifting have been used to generate the sound material.
The pieces of the collection explore our experiences, now based on high fidelity, amplitude and multiple timescapes, by creating a spatialised, intense environment charting the transmutations and changes from sound to sound.
The CD has been released as a limited edition of 500 sequentially numbered pieces, packaged in an antistatic plastic bag.
Most of the base material that has been used in the recordings of this CD was originally created for a concert using live electronic equipment and a multi speaker environment. A custom built application for real-time audio synthesis and routing the sounds developed by Bernhard Loibner with the Max/Msp programming environment was used in this concert.
The sounds were created and manipulated in real time on a laptop computer and transmitted to a set of 6 speakers. The performer was placed in the center of the space, manipulating and creating the complex textures of sound. Around him, the audience, immersed in an environment created by the shifting layers and sculpted sound, and surrounding them the series of speakers that created the sonic landscape.
The live piece has been performed in January 2002 at "Livespace", a series of of events illustrating the shifting borders around what is constituted 'live art' at the Ferres Art Gallery in Hull (UK), organized by Hull Time Based Arts.
This CD is not available anymore.
Credits
10 tracks, total length: 45'56":
1 ArcTan 3/55, 2 Bosa 1 4/00, 3 Carbon 4/55, 4 O.T. 1/53, 5 Seeds 13/52, 6 Generate 3/19, 7 File 1/43, 8 Metric 5/06, 9 Bosa 2 3/41, 10 Align 3/30
All sound and music composed, programmed, recorded and mastered by Bernhard Loibner. CD Design: Bernhard Faiss.
The release of this CD has been supported by SKE.