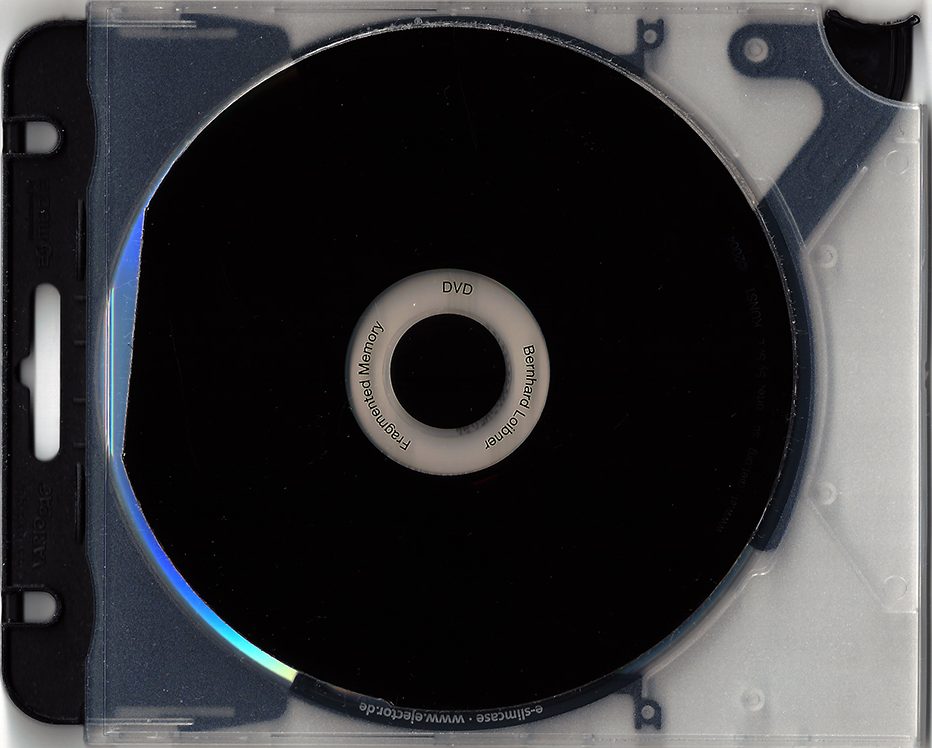 Fragmented Memory is a collection of 8 sound/video pieces released on DVD in 2004 by the austrian label allquiet. All sounds and videos were created by Bernhard Loibner (except one video track by Tom Sherman).
Although there is no general "theme" the 8 tracks of the DVD share a common idea of creating audio-visual compositions where dynamic structures of sound and video combine and/or counterpoint each other.
The video sequences consist of various processed fragments of images (TV-samples, "real"-world images, abstract textures) with these elements folding into complex sequences of images. The pieces investigate the stereotypical, spectacular image as well as symbolic references into abstract patterns.
The compositional principle is being continued in the soundtracks of the pieces. Layers of sounds are being combined; beat fragments as well as processed soundscapes drive the visual content or break the rhythmical flow of the video tracks.
Fragmented Memory works on multiple perception modes (without passing any test of consistency). It contains continuous links into symbolic, abstract and emotional spaces through constant interweaving of these modes. This poses questions of a hierarchy of perception and sensory information.
Pieces/Tracks
Mnemonics (5'15"), Iceland (6'12"), Bosa 2 (4'03"), Breaking News (4'44"), Sub/Extros (5'00", video by Tom Sherman), Semantic Forests (6'10"), Align (3'54"), America's Game (5'50")
This DVD is not available anymore.
Credits
All music and video by Bernhard Loibner except Sub/Extros: video by Tom Sherman, music by Bernhard Loibner & Bernhard Gal. Art work by allquiet.
The DVD (or parts) has been presented at numerous video and music festivals all over the world such as Simultan03 Timisoara (Romania, 2007), Athens Video Art Festival (Greece, 2006), Videoformes Festival, Clermond-Ferrand (France, 2006), International Kortfilmfestival (Leuven, Belgium, 2005), VAD Video and Digital Arts International Festival (Girona, Spain, 2005), Unsound Festival 2005 (Krakow, Poland), Electrofringe 2005 (Newcastle, Australia), Festival Sonoimagenes (Buenos Aires, Argentinia, 2005), 2nd Media Arts Festival Armenia (Yerevan, Armenia, 2005), Sonic Arts Network's Expo 966 (Hull, UK, 2005), Thailand New Media Arts Festival 2005 (Thailand, Bangkog), Generator (Vienna, Austria, 2005), Arsonica Festival (Seville, Spain, 2004), Harvestworks (NY, USA, 2004), Syracuse University and Spark Contemporary Art Space (Syracuse, USA, 2003/2004), Cybersonica (London, UK, 2003).
This DVD was supported by SKE and the arts section of the federal chancellery of Austria.